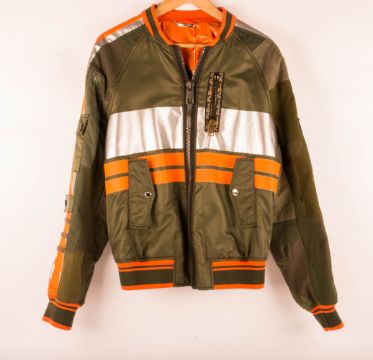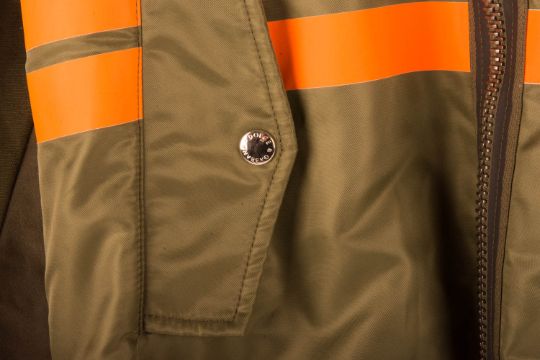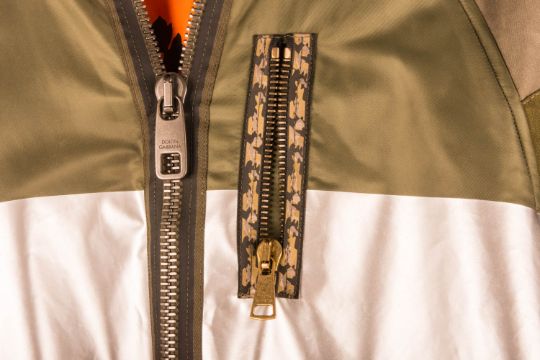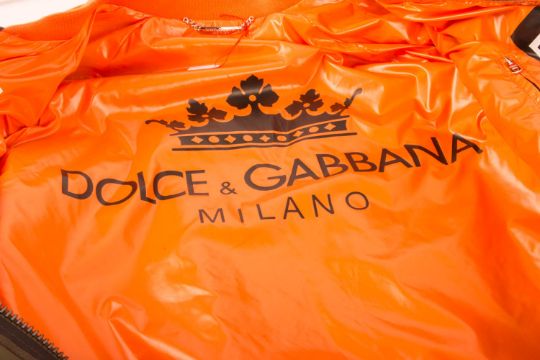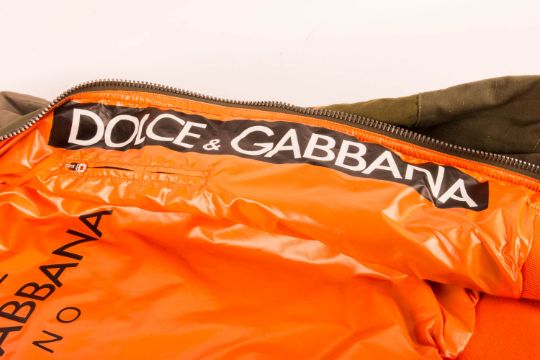 Click on the image to see full size
Use mouse wheel or two fingers to zoom in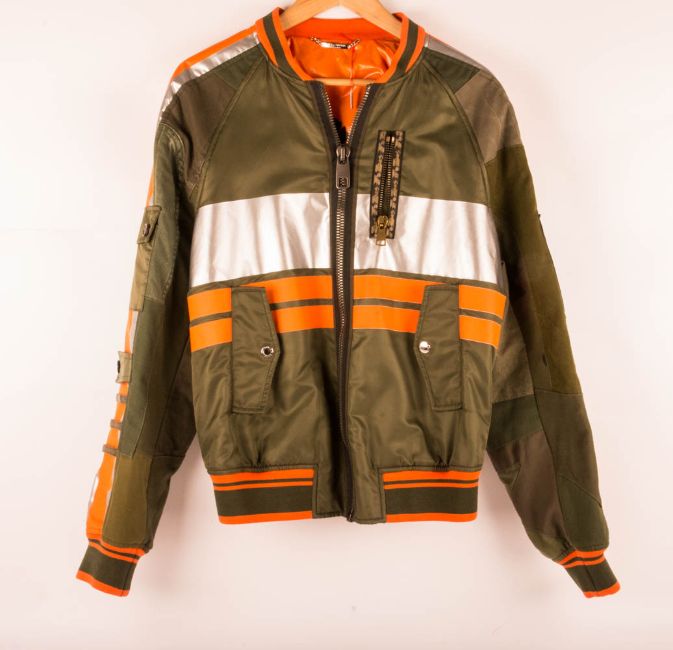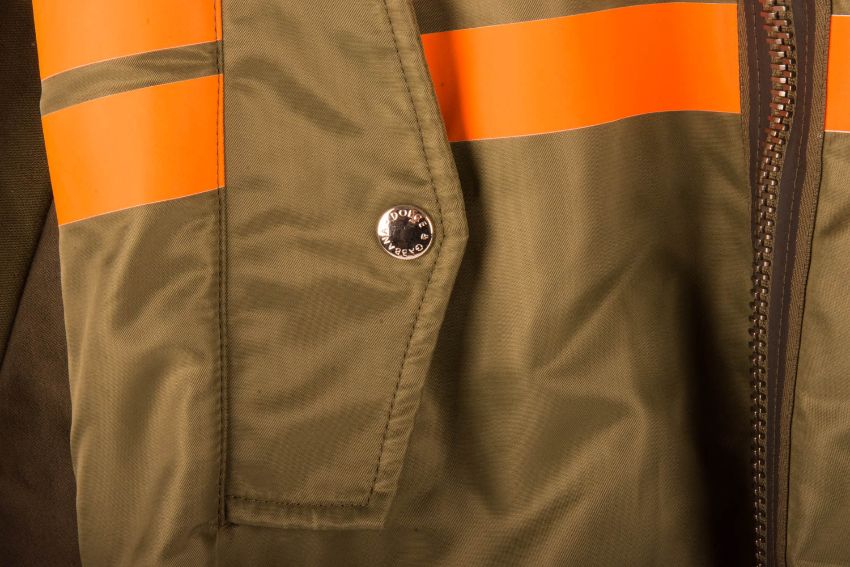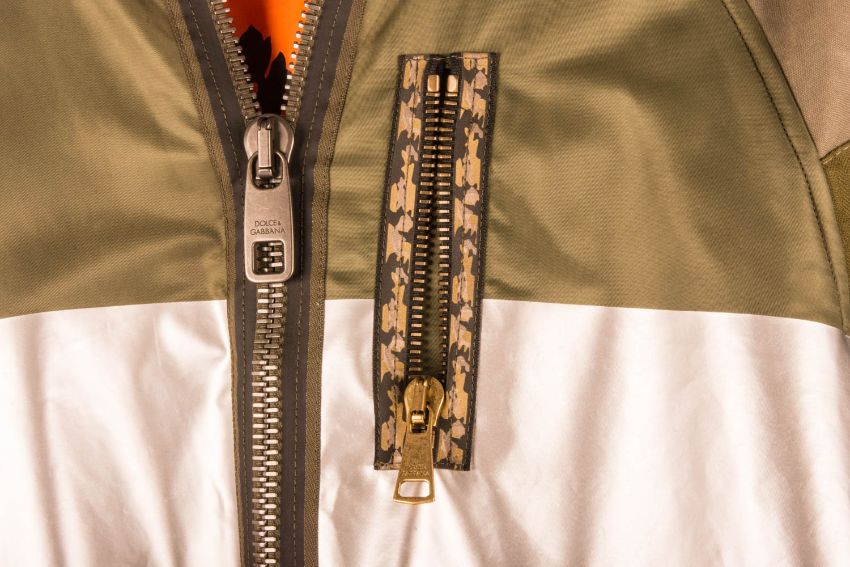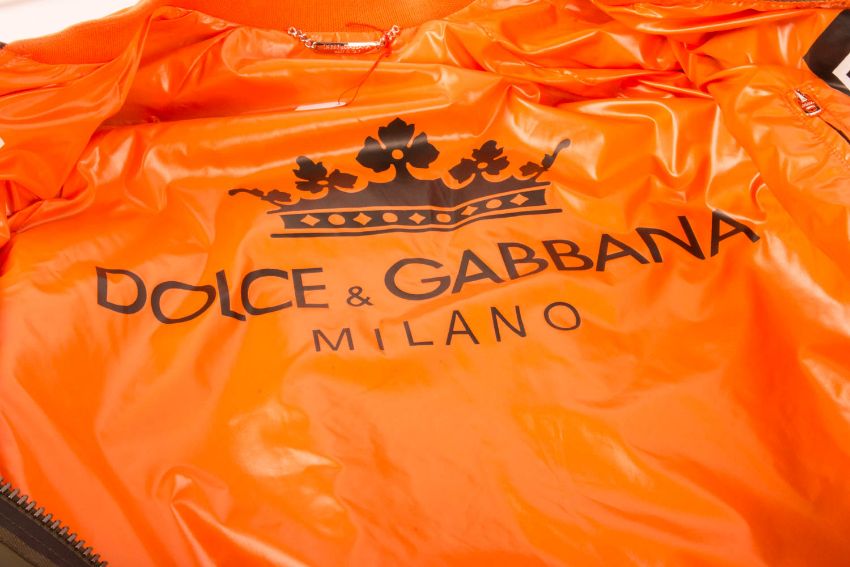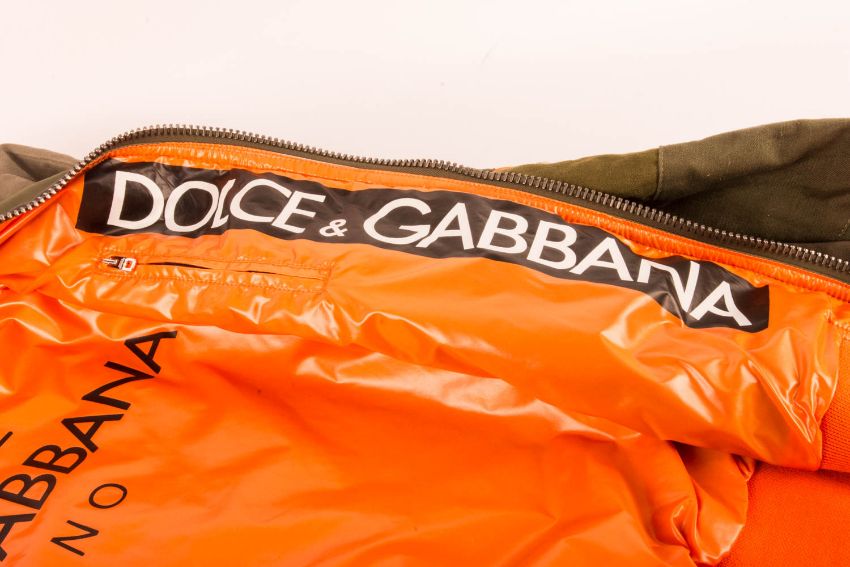 Please confirm purchase
You are about to buy this lot for
0
EUR
Bids do not include VAT, buyer's premium or delivery.
Clicking the confirm button is legally binding obligation to buy and pay for the lot should your bid be successful.
Proceed With Buy It Now?
We have noticed that your maximum bid is higher or equal to the buy it now price for this lot.
Would you like to discard your maximum bid and proceed with the buy it now option?
Timed auction
Lot location
Stuttgart
Dolce & Gabbana, Bomberjacke in Khaki, mit oranenen und grauen Applikationen. Ärmel mit Taschen und Aufnähern.
Innenfutter morange mit schwarzem Logo.
Größe: 48.
Alters- und Gebrauchsspuren, teilweise fleckig.
Venue address
Seyfferstraße 103
Stuttgart
70193
Germany
Spring Auction
Auction dates
Starts:
Mar 17, 2023 12:00 PM CET
Ends from:
Mar 26, 2023 05:00 PM CEST
| | |
| --- | --- |
| Auction currency | EUR |
| Buyer's premium | 25 % |
| Other payment methods | |
Die Versandkosten und Lieferzeiten richten sich nach Größe, Warenwert, Gewicht, Eigenschaften und Art der Ware, sowie nach der Lieferadresse.
Lose die grundsätzlich nur per Spedition oder Selbstabholung geliefert werden können, sind in der Beschreibung gekennzeichnet. Der Kauf mehrerer Lose kann aufgrund des kombinierten Warenwerts, Größe, Gewichts oder Eigenschaften ebenfalls Speditionslieferung erforderlich machen. Auf Anfrage ist die Vermittlung des Speditionsauftrags an unseren Kooperationspartner möglich.
Eine Aufstellung Ihrer Versandkosten sowie die angebotene Versandoption finden Sie in der vollständigen Rechnung. Diese wird am Folgetag nach Beendigung der Auktion und ausschließlich per E-Mail zugesandt.
Shipping costs and delivery times depend on the size, value of goods, weight, characteristics and type of goods, as well as the delivery address.

Lots which can be delivered only by forwarding agency or self-collection are marked in the description. Buying multiple lots can make the use of a forwarding agency necessary depending on the combined weight, size, value and characteristics. On request, the mediation of the forwarding order to our cooperation partner is possible.

A list of your shipping costs and shipping option can be found in the full invoice. This will be sent exclusively by e-mail the following day after the auction has ended.
Versteigerungsbedingungen
Mit der Teilnahme an der Auktion, dem Nach- oder Freihandverkauf werden folgende Bedingungen anerkannt:

1. Die Versteigerung erfolgt freiwillig und öffentlich im Namen und für Rechnung der Auftraggeber, die ungenannt bleiben. Der Versteigerer ist berechtigt, Auskunft über die Person des Einlieferers oder Bieters zu verweigern, wenn er gleichzeitig für eventuelle Verbindlichkeiten des Verkäufers oder Käufers die selbstschuldnerische Haftung übernimmt.
2. Der Versteigerer behält sich das Recht vor, Personen ohne Angabe von Gründen von der Versteigerung auszuschließen.

3. Der Versteigerer behält sich das Recht vor, Nummern des Katalogs zu vereinen, zu trennen, außerhalb der Reihenfolge zu versteigern oder zurückzuziehen.

4. Sämtliche zur Versteigerung gelangenden Gegenstände können vor einer Live Versteigerung besichtigt und geprüft werden. Bei einer Timed Auction erfolgt die Besichtigung rein online über Beschreibung, sowie Condition Reports und Fotos. Die Gegenstände sind in der Regel gebraucht. Sie werden in dem Zustand versteigert, in dem sie sich zur Zeit des Zuschlags befinden. Die nach bestem Wissen und Gewissen vorgenommenen Katalogbeschreibungen, Fotos, sowie auch mündliche und schriftliche Erklärungen sind keine zugesicherten Eigenschaften gem. §459 ff BGB. Für Mängel jeglicher Art wird keine Haftung übernommen. Es liegt im eigenen Interesse der Käufer, die Gegenstände vorab zu prüfen.
5. Die angegebenen Rufpreise sind im Regelfall Limitpreise. Der Zuschlag kann auch für Untergebote erteilt werden, jedoch nur nach Absprache und vollem Einverständnis der Einlieferer. Während der Auktion werden keine Untergebote angenommen.

6. Der Zuschlag wird erteilt, wenn nach Ablauf der Bietzeit kein höheres Gebot erfolgt. Der Versteigerer kann sich jedoch die Erteilung des Zuschlags vorbehalten oder verweigern. Bestehen Zweifel über den Zuschlag, so steht es im Ermessen des Versteigerers, ob er den Zuschlag erteilt oder den Gegenstand neu ausbietet. Mit der Abgabe eines Gebotes verpflichtet sich der Bieter nach Erteilung des Zuschlages, seinen Namen und Anschrift zum Versteigerungsprotokoll zu geben. Wird unter Vorbehalt zugeschlagen, bleibt der Bieter für drei Wochen vom Tage des Ausrufs an an sein Gebot gebunden. Jedoch kann dieser Gegenstand zum Limitgebot jederzeit ohne Rückfrage an einen anderen Bieter zugeschlagen werden.

7. Der Zuschlag verpflichtet zur Abnahme. Mit Erteilung des Zuschlages gehen Besitz und Gefahr unmittelbar auf den Ersteher über, das Eigentum jedoch erst nach vollständiger Bezahlung.

8. Auf den Zuschlagspreis wird ein Aufgeld von 25 % (exkl. Mehrwertsteuer) erhoben. Auf das Aufgeld wird die gesetzlich vorgeschriebene MwSt. von aktuell 19 % fällig. Für die ersteigerten Objekte gilt die Differenzbesteuerung, hierfür wird die Mehrwertsteuer nicht ausgewiesen.
9. Für Kunstwerke, aus deren Verkauf eine Folgerechtsabgabe entsteht, hat der Käufer diese Abgabe zu übernehmen und dem Auktionshaus bzw. dem Einlieferer/Veräußerer zu erstatten. Die Höhe des Anteils des Veräußerungserlöses beträgt gemäß § 26 UrhG: 4% für den Teil des Veräußerungserlöses bis zu 50.000 Euro, 3% für den Teil des Veräußerungserlöses von 50.000,01 bis 200.000,00 Euro, 1% für den Teil des Veräußerungserlöses von 200.000,01 bis 350.000,00 Euro, 0,5% für den Teil des Veräußerungserlöses von 350.000,01 bis 500.000,00 Euro, 0,25% für den Teil des Veräußerungserlöses über 500.000,00 Euro. Der Gesamtbetrag der Folgerechtsvergütung aus einer Weiterveräußerung beträgt höchstens 12.500 Euro. Liegt der Zuschlagpreis unter 400,00 € wird keine Abgabe fällig.
10. Der Ersteher erhält am Folgetag des Zuschlags eine Rechnung mit allen ausgewiesenen Kosten.
a) Diese ist innerhalb von 14 Tagen nach Erhalt per Banküberweisung an den Versteigerer zu zahlen. Persönliche Abholungen sind ausschließlich nach vollständiger Zahlung möglich. Nach Absprache kann bei persönlichen Abholungen auch die Zahlung in Bar vereinbart werden. Hierfür muss beim Abholungstermin der vollständige Zahlungsbetrag passend an den Versteigerer übergeben werden.
b) Bei Zahlungsverzug werden Mahn- und Lagergebühren in Höhe von 5% des Rechnungsbetrags je weiteren 14 Tagen erhoben. Erfolgt die Zahlung nicht oder wird die Annahme verweigert, können die ersteigerten Lose auf Kosten des Käufers noch einmal versteigert werden. Der Käufer haftet für den Ausfall; auf einen Mehrerlös hat er keinen Anspruch und wird zu weiteren Gebot nicht zugelassen. Von seiner Abnahme und Zahlungsverpflichtung ist er erst dann befreit, wenn die Lose neu verkauft und bezahlt sind.
c) Während oder unmittelbar nach der Versteigerung ausgestellte Rechnungen bedürfen einer besonderen Nachprüfung und eventuellen Berichtigung; Irrtümer vorbehalten. Sämtliche Rechnungskorrekturen sind unverzüglich und vor Begleichen der Rechnungssumme an den Versteigerer zu melden. Mündlich oder telefonisch getroffene Vereinbarungen haben nur dann Gültigkeit, wenn sie vom Versteigerer schriftlich bestätigt werden. Aufhebung des Schriftzwanges ist nur schriftlich möglich.
d) Steuerbefreiungen bei innergemeinschaftlichen Lieferungen oder Versand ins EU-Ausland können nur bei vollständiger Übermittlung sämtlicher notwendiger Daten vor Rechnungsbegleichung berücksichtigt werden.
11. Lagerung und Versand der Gegenstände erfolgen auf Kosten und Gefahr des Erwerbers.
a) Eine Haftung für Beschädigungen oder Verlust der ersteigerten Ware, die auf dem Transportweg entstanden sind, übernimmt der Versteigerer nicht. Insbesondere dann, wenn trotz Empfehlung des Auktionshauses eine Lieferung per Spedition oder Selbstabholung der Ware durch den Käufer abgelehnt wird.
b) Die Versandkosten und Lieferzeiten richten sich nach Größe, Warenwert, Gewicht, Eigenschaften und Art der Ware, sowie nach der Lieferadresse.
12. Nach Erhalt der Ware aus einer Timed-Auction können Lose 14 Tage lang ohne Angabe von Gründen zurückgegeben werden. Hierfür ist die vollständige Position umgehend und im zugeschlagenen Zustand an das Auktionshaus zurückzugeben. Für Mängel und Verluste haftet bis zur vollständigen Rückgabe der Käufer. Sind die Bedingungen der Rückgabe nicht erfüllt, erfolgt keine vollständige Rückerstattung. Nach Ablauf der Frist von 14 Tagen nach Erhalt sind Rückgaben ausgeschlossen.
13. Sämtliche Ansprüche und Rechte seiner Auftraggeber kann der Versteigerer im Namen seiner Auftraggeber oder in eigenem Namen geltend machen.
14. Der Versteigerungsvertrag unterliegt deutschem Recht. Erfüllungsort für beide Teile ist Stuttgart. Sollte eine der vorstehenden Bedingungen unwirksam sein, berührt dies nicht die Wirksamkeit der übrigen Bedingungen.
Stuttgart, den 01.03.2022
Auction conditions

Participation in the auction, post-auction or open sale implies acceptance of the following conditions:


1. the auction takes place voluntarily and publicly in the name and for the account of the principals, who remain unnamed. The auctioneer is entitled to refuse information about the person of the consignor or bidder, if at the same time he assumes the directly enforceable liability for possible liabilities of the seller or buyer.

2. the auctioneer reserves the right to exclude persons from the auction without giving reasons.


3. the auctioneer reserves the right to combine, separate, auction out of sequence or withdraw numbers of the catalog.


4. all items to be auctioned can be inspected and checked before a live auction. In a Timed Auction, viewing is done purely online via description, as well as condition reports and photos. The items are usually used. They are auctioned in the condition in which they are at the time of the hammer. The catalog descriptions, photos, as well as verbal and written statements made to the best of our knowledge and belief are not guaranteed properties according to §459 ff BGB. No liability is assumed for defects of any kind. It is in the buyer's own interest to inspect the items in advance.

5. the stated call prices are usually limit prices. Sub-bids may be accepted, but only after consultation and full agreement of the consignors. No sub-bids will be accepted during the auction.


(6) The lot is knocked down if no higher bid is made after the end of the bidding period. However, the auctioneer may reserve the right to knock down or refuse to do so. If there is any doubt as to the knockdown, it shall be at the auctioneer's discretion whether to accept the bid or to re-bid the item. By submitting a bid, the bidder undertakes to submit his name and address to the auction protocol after the bid has been accepted. If the bid is accepted under reserve, the bidder shall remain bound to his bid for three weeks from the day of the call for bids. However, this item may be knocked down to another bidder at the limit bid at any time without further inquiry. 7.


7) The acceptance of the bid obliges the bidder to take delivery. Upon acceptance of the bid, possession and risk shall pass directly to the Purchaser, but ownership shall not pass until payment has been made in full.


8) A premium of 25% (excluding value added tax) shall be charged on the hammer price. The statutory VAT of currently 19 % is due on the buyer's premium. For the auctioned objects, the differential taxation applies, for this the VAT is not shown.



9. for works of art from the sale of which a resale right tax arises, the buyer must assume this tax and reimburse the auction house or the consignor/seller. According to § 26 UrhG, the amount of the share of the sale proceeds is: 4% for the part of the sale proceeds up to 50,000 Euro, 3% for the part of the sale proceeds from 50,000.01 to 200. 000.00 Euro, 1% for the part of the sale proceeds from 200,000.01 to 350,000.00 Euro, 0.5% for the part of the sale proceeds from 350,000.01 to 500,000.00 Euro, 0.25% for the part of the sale proceeds exceeding 500,000.00 Euro. The total amount of the resale right remuneration from a resale shall not exceed 12,500 euros. If the hammer price is less than €400.00, no duty shall be payable.

10. the buyer will receive an invoice with all stated costs on the day following the knockdown.

a) This must be paid to the auctioneer by bank transfer within 14 days of receipt. Personal collection is only possible after full payment. Upon agreement, payment in cash can also be arranged for personal pick-ups. In this case, the full payment amount must be handed over to the auctioneer at the time of collection.

b) In the event of late payment, reminder and storage fees of 5% of the invoice amount will be charged for each additional 14 days. If payment is not made or acceptance is refused, the auctioned lots may be auctioned again at the buyer's expense. The buyer is liable for the loss; he has no claim to additional proceeds and will not be admitted to further bidding. He shall not be released from his acceptance and payment obligation until the lots have been resold and paid for.

c) Invoices issued during or immediately after the auction shall be subject to special verification and possible correction; errors excepted. All invoice corrections must be reported to the auctioneer immediately and before the invoice amount is paid. Agreements made orally or by telephone are only valid if confirmed in writing by the auctioneer. Cancellation of the requirement for written confirmation is only possible in writing.

d) Tax exemptions for intra-community deliveries or shipments to other EU countries can only be taken into account if all necessary data are submitted in full before the invoice is paid.



11. storage and shipment of the items are at the expense and risk of the purchaser.

a) The Auctioneer shall not be liable for any damage to or loss of the auctioned goods occurring during transport. In particular, if despite the recommendation of the auction house a delivery by forwarding agent or self-collection of the goods by the buyer is refused.

b) The shipping costs and delivery times depend on the size, value of the goods, weight, characteristics and type of the goods, as well as on the delivery address.



12) After receipt of the goods from a Timed Auction, lots can be returned for 14 days without giving reasons. For this purpose, the complete item must be returned to the auction house immediately and in the awarded condition. The buyer is liable for defects and losses until the complete return. If the conditions for return are not fulfilled, no full refund will be made. After the expiration of the period of 14 days after receipt, returns are excluded.



13. all claims and rights of his clients can be asserted by the auctioneer in the name of his clients or in his own name.



14. the auction contract is subject to german law. Place of performance for both parties is Stuttgart. Should one of the above conditions be invalid, this shall not affect the validity of the remaining conditions.



Stuttgart, 01.03.2022


Das Aufgeld beträgt 25% (zzgl 19% Mwst). Mehrwersteuer auf den Zuschlag fällt nicht an.
The buyers premium is 25% (plus 19% VAT). There is no VAT for the surcharge.